Tessa de Alarcon, Grace Jan, Almoatz-bellah Elshahawi
Friday May 21st, 11:00am – 12:30pm (PT)
Register here

Tessa de Alarcon
How working in the US and Guatemala has Influenced the Way I Think About Conservation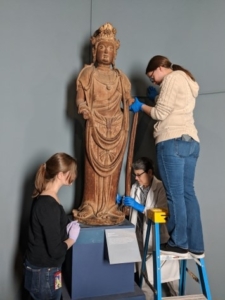 I will briefly discuss my experiences working in Guatemala as compared to working in the United States and reflect on how those experiences have impacted the way I work as a conservator. I am a Guatemalan American, I was born and raised in the US but have lived and worked in both the US and Guatemala. My introduction to conservation occurred in Guatemala and my first pre-program internship was there, as well. As a result, my introduction to best practices, ethics, and material evaluation all occurred in Guatemala. I then returned to the US for graduate school. Since obtaining my degree, I have worked on site in Guatemala and taught workshops there, in addition to working at the Penn Museum in Philadelphia as a project conservator. My exposure to different approaches, challenges, and issues in cultural heritage preservation has shaped me as a conservator. It has given me a unique perspective on decision making. In particular, I think it has helped me challenge assumptions and reflect on the way that a single problem can have many different possible solutions.This is not intended to be a formal presentation and will be very much based on my personal experiences and perspective.
Tessa de Alarcon has been a project conservator at the Penn Museum in Philadelphia since 2012. She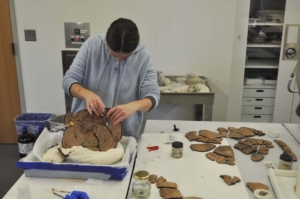 was born and raised in the US but has lived and worked both in the US and Guatemala. Her introduction to conservation occurred while working as an intern at Casa Santo Domingo in Antigua,Guatemala. During her time at the Penn Museum she has worked on a variety of different projects including condition assessments, and gallery renovation projects. She has also worked as an archaeological field conservator.The bulk of her field work has been in Guatemala,but most recently she had the opportunity to work in Azerbaijan. She has also taught workshops on documentation and archaeological conservation at the Museo Nacional de Arqueología y Etnologíain Guatemala City.She received her MA from the UCLA/Getty Program in the Conservation of Archaeological and Ethnographic Materials in 2012.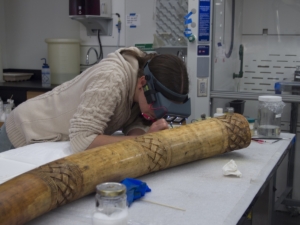 Grace Jan
The Cross-cultural Evolution of Chinese Painting Conservation
Freer Gallery of Art and Arthur M. Sackler Gallery, the Smithsonian's National Museum of Asian Art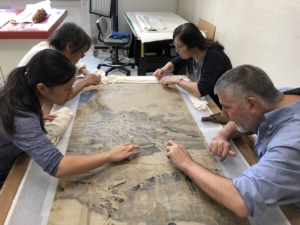 My ten-year career in Chinese painting conservation has provided cross-cultural experiences and insights into this evolving field. This talk will discuss this evolution in Chinese painting conservation education and training, cultural initiatives, and techniques.
Chinese painting conservation requires specialized skills that were traditionally passed down through apprenticeship training. But over the last twenty years, significant changes to access and knowledge of Chinese painting conservation haveled to progress and challenges in the field, impacting its practice domestically and within China.
This evolution is reflected in U.S. initiatives by the Freer Gallery of Art and Arthur M. Sackler Gallery, the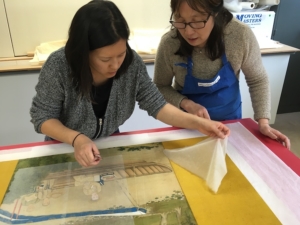 Smithsonian's National Museum of Asian Art, and theAndrew W. Mellon Foundation. In 2000, the Freer and Sackler established the Chinese Painting Conservation Program, an initiative to train young professionals and develop cooperative projects promoting the care of Chinese paintings. In 2012, the Mellon Foundation furthered support of training and exchanges among conservators, and helped to endow a Chinese painting conservation position and fellowship program. These efforts helped establish a training pipeline of conservators.
Concurrently in China, I have observed a shift in training, from a traditional apprenticeship model to formalized degree programs. This has occurred alongside a nationwide prioritization of Chinese culture and heritage resulting in new museums and state-of-the-art conservation facilities. In addition, conservators have increased exposure to the diversity of conservation approaches across different regions of China.
My cross-cultural career has provided perspective on how the field could integrate Western and Chinese methods. Shortened formalized training could be integrated with the apprenticeship model, ensuring the sustainability of Chinese traditional conservation. Implicit in all this is the merging of these cultures. In response, domestic and international collaboration and networks are crucial to advancing the field and leveraging knowledge and resources across the field.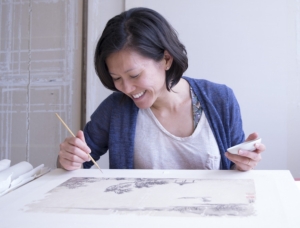 Grace Jan is the Yao Wenqing Chinese Painting Conservator at the Freer Gallery of Art and Arthur M. Sackler Gallery, the Smithsonian's National Museum of Asian Art. Since 2009, she has worked on the museum's Chinese painting and calligraphy collection and supported the museum's Chinese Painting Conservation Program to promote domestic and international exchange and collaboration. She is active in facilitating the Andrew W. Mellon supported initiative to develop and promote this specialization across the U.S. Ms. Jan received anMAin Art History and Advanced Certificate in Conservation from the Institute of Fine Arts Conservation Center, New York University. She trained at the Shanghai Museum, Beijing Palace Museum, Metropolitan Museum of Art and the Museum of Fine Arts, Boston.

Almoatz-bellah Elshahawi
An Ancient Egyptian Ptolemaic Coinage: History and Preservation Methods
Ancient coins are one of the most important sources of information from which archaeologists and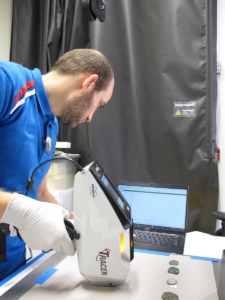 historians can interpret the past. Through the study of coins, we can obtain valuable information about the culture of that time since most coins can be easily dated. This is partly because, unlike most other ancient artifacts, they are often stamped with text and images of rulers from a specific period in time. Coins also shed light on which countries were trading partners. Additionally, the materials used for minting coins, such as bronze, silver, gold, has further helped historians date the coins and reveal the affluence of that culture. My presentation will focus on the study a group of Ptolemaic coins in the antiquities collection of the Grand Egyptian Museum and Karnak temple. I will discuss the history of the coins, their documentation process and conclude with treatment, cataloguing and storage recommendations.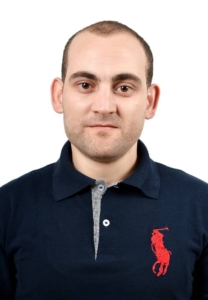 Almoatz-bellah Elshahawi a PhD candidate in the conservation at Cairo University, specializing in ancient Egyptian works on Metals and Coins. He is a graduated intern at the J. Paul Getty Museum for one year(2019-2020). For the dissertation, he is researching on the evaluation of the efficiency of environmental inhibitors with Nano-reinforcement for the protection of archaeological bronze. He received a Master's degree in Conservation, Cairo University, 2017. Almoatz-bellah Elshahawi was a 2013-2017 Cairo university Fellow. A 2005-2009 Abou-Qir high conservation institute Fellow and most recently, an object conservator at the Grand Egyptian Museum-Conservation Center (GEM-CC).