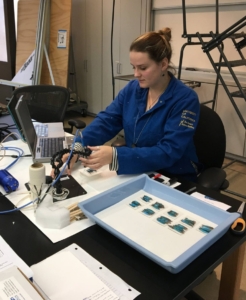 Students will be accepted for matriculation in the PhD Program on the Conservation of Material Culture (CMC) on alternate, even years (2022, 2024, 2026). The next application deadline is December 15, 2021. Applications should be submitted online through UCLA Graduate Division. The requirements for admission are outlined on this page. For information on financial aid, fees, and other topics of interest to potential students, please read UCLA's Graduate Division page for Prospective Students. International students should also read the Requirements for International Applicants. Individuals interested in applying are welcome to contact the program for additional information.
Strong applications will include a well-developed description of the proposed research in the Statement of Purpose. The description should include faculty members, Program resources, and other resources at UCLA that the applicant would like to work with and why. The research should either fall within our Major Fields and Subdisciplines described in the student handbook, or another associated field of study. Although it is not required, a Master's degree in the conservation of cultural heritage will strengthen the application. Strong applicants will have a demonstrable record of work within the Program's core values of collaboration, sustainability, and diversity, equity, & inclusion.
Applicants are advised to communicate with Program faculty in advance about their research. The Program Chair is available to answer questions about the Program and the degree, and the Student Affairs Officer is available to answer questions about matriculation at the university.
The following is required and must be completed or submitted before your application can be reviewed:
Undergraduate Degree
A Bachelor's degree (B.S. or B.A.) and/or a Master's degree (M.S. or M.A.) preferably in the fields of Conservation, Archaeology, Anthropology, Art History, Chemistry, Materials Science, Physics, Life Sciences, Earth sciences, Visual Arts, Museum Studies, Information Technology and other relevant disciplines with minimum cumulative grade point average (GPA) of 3.3 for a bachelor's degree and 3.5 for a master's degree.
Course Prerequisites
A minimum of one academic year (2 semesters or 3 quarters) of study is required in each of the following areas:
Archaeology, Cultural Anthropology, or Ethnography
Art History (studies in archaeological or cultural materials and/or traditions preferred)
General Chemistry (with lab)
Organic Chemistry (with lab)
Experience
A minimum of 400 hours of documented research or research-based practice in conservation or conservation related field is required for admission to the program.
Application for Graduate Admission
Please visit Graduate Division to apply online. Note: In response to the question, "Name of Department or School which offers the program" indicate "Conservation of Cultural Heritage."
Statement of Purpose
Each applicant is required to submit a Statement of Purpose that describes his or her previous experience in conservation and related fields, plan of study, and professional goals. The plan of study should include a description of the proposed research that will build on existing literature and make a unique contribution within our Major Fields and Subdisciplines, or another associated field of study. It should contain references to the literature and a discussion of why the research is needed. The Statement of Purpose should also include rationale for pursuing the research within the UCLA/Getty Program in the Conservation of Cultural Heritage, with reference to faculty and resources that will facilitate the study.
Curriculum Vitae
A curriculum vitae must be submitted.
Letters of Recommendation
Three letters of recommendation must be submitted by each applicant. One letter must be from a supervisor in conservation or conservation-related field, and one must be from a former professor.
Writing Sample
Each applicant is required to supply at least one written sample of previous research in archaeology, anthropology, art history, conservation, the sciences, or related fields. This may be in the form of publications, articles proposed for publication, research reports, papers for college courses, etc. Writing related to the proposed research is preferred.
Graduate Record Examination (GRE) Report
Results from the GRE test will not required for Fall 2022 applications due to restrictions related to COVID-19. The program is considering removing the GRE requirement entirely.
Official Transcripts
Transcripts for all university work must be submitted with the application for admission.
TOEFL Scores (international applicants only)
Applicants for whom English is not the first language are required to submit TOEFL scores.
Foreign Language Requirement
There will be no foreign language requirement. English is the common language of the discipline. There is a requirement that every student be able to communicate effectively in spoken and written English.
Interview
Those applicants who reach the final stages of evaluation will be interviewed as part of the evaluation process.